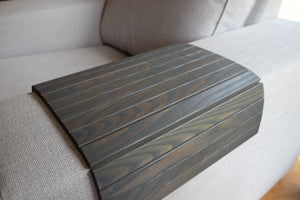 LipLap- Sofa Trays
Sofa Tray Table Grey
Sale price Price $174.00 Regular price
This is a custom order for M
ichelle Spencer. 1x sofa tray grey with measurements 40" x 14" (100 x 35 cm). We have free shipping!
AMAZINGLY HANDY AND USEFUL COUCH TABLE TRAY – Don't miss a moment of your favorite TV show or postpone reading that amazing chapter of your book just to grab a drink or a snack. Have them all ready by your side on this sofa tray table that you simply throw over the side of your couch. No complicated installation or dragging table legs over the floor with this handy TV tray sofa table.
DURABLE AND COMFORTABLE WOODEN ARMREST TRAY – This innovatively convenient sofa table tray is handcrafted from high quality and gentle-to-touch oak timber. This means that your armrest tray table is very pleasant to touch and sturdy enough to endure different weights and temperatures without serious damage. You can even comfortably use it as a laptop tray!
THIS WELL-DESIGNED SOFA TRAY TABLE FOR COUCH FITS ANY ARMREST – This fantastic wood sofa tray table is assembled of several wood slats, connected together for flexibility, so you just throw it over the armrest and it fits like it has always been a part of your couch! It hugs your armrest and hold tightly for stability.
OUR SOFA SIDE TABLE TRAY PROVIDES GREAT PROTECTION FOR YOUR FURNITURE – The lower part of this side sofa table tray is lined with actual linen, so the wooden slats will not rub against your furniture and leave scratches or tears on your furniture textile. The slats of your sofa armrest tray in combination with linen hold on to your spilled liquids just long enough for you to react and wipe them off.
ALL-NATURAL ECO-FRIENDLY DESIGN FITS WELL INTO ALL INTERIOR STYLES – Sourced from Estonian (European) local forests, the timber for your wooden sofa tray table is created in controlled conditions, making sure its manufacture doesn't hurt the environment. The finishing oils on our sofa armrest tray are eco-friendly and safe. The beautiful natural design will be a great addition to any room.
Measurements: 40" x 14" (100 x 35 cm). Fits every rectangular armrest.
All our products are HANDMADE IN EUROPE!
We have over 1600 HAPPY CUSTOMERS and many 5-star reviews! There are many made in China copies on Etsy but this is a original and handmade sofa tray table! Support European handcrafters!